"Mr Selfridge" Series 2 Episode Guide
ITV London announced that it had commissioned ITV Studios to film a second series of the popular period TV drama set in the early 1900's, "Mr Selfridge" to be aired in Sunday 19th January 2014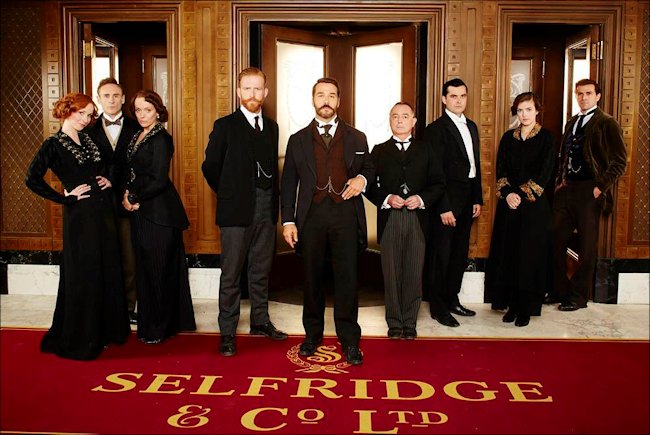 The cast of the TV period drama based on Selfridges Department Store in London
Episode 1
It's the 5th year anniversary of the store's opening and Harry (Jeremy Piven) is proud that Selfridge's has gone from strength to strength. It's now the third biggest attraction in town, behind Buckingham Palace and the Tower of London! Harry arrives at the store and is surprised to find all the staff assembled in the Palm Court. They have clubbed together to commission a sculptured bust of The Chief in tribute to his leadership. Harry is truly moved; he values his staff more than ever. It's clear that they value him, too. Chief of Staff Mr Grove (Tom Goodman Hill) bemoans the sleepless life of a parent of several children, whilst Miss Mardle (Amanda Abbington) requests formal leave. Her brother is dying in Geneva, and she must go to be with him. Meanwhile, Agnes Towler (Aisling Loftus) steps tentatively into the store. Looking remarkably chic and sophisticated, Agnes has just returned from a 2nd year secondment in Paris to take up the job of Head of Display in store. It's news Kitty (Amy Beth Hayes) - the new Head of Cosmetics - wasn't expecting, and Victor (Trystan Gravelle) looks on, surprised by Agnes' return. Lady Mae Loxley (Katherine Kelly) is preparing to go shopping when her peace is shattered. Lord Loxley (Aidan McArdle) has arrived downstairs – and he's brought luggage.
At the store, Harry has his next surprise, Rose, who has returned early from America especially for the store's anniversary, but things aren't the same between them. Harry misses her but Rose is resolute. They made an agreement. She is happy to be Mrs Selfridge in public, but privately it's clear there's still a rift between them. Their intimate conversation is interrupted, to Harry's frustration, by Rose's new best friend Delphine Day (Polly Walker). Notorious nightclub owner and saucy writer, Delphine has a new book out, 'The Summer House'. Lady Mae arrives in store with a grumpy Lord Loxley in tow. Loxley won't let her buy anything, and, to her muted horror and astonishment, makes a show of closing down her account. Loxley and Harry definitely get off on the wrong foot, and it's clear Loxley is going to cause trouble for Lady Mae. Gordon (Greg Austin) returns home from school with news that he won't be going back. He wants to start work in the store, after all, it'll be his one day. However, Gordon gets more than he bargained for when Harry has him start in the loading bay with Gordon.
AGNES finds herself in confrontation with the waspish Mr Thackeray (Cal MacAninch), the new Head of Fashion when she has to arrange a display for the launch of Delphine's book in his department. But the display and launch are a big success. Lady Mae is increasingly unnerved by Loxley's prolonged presence in town. She doesn't trust him an inch. And when she overhears him blackmail his way onto a government military committee, she knows he's up to something…especially with all this talk of war. Harry offers to take Rose out to the cinema, but she goes to a party at Delphine's club, so Harry takes Gordon out instead. In the club, Rose is having a blast. Kitty is on a date with journalist Frank Edwards (Samuel West) but has to reject his scurrilous romantic advance! Harry stops by Delphine's to walk Rose home, but when he sees her in her element having fun he just lets her be. Unseen by Harry, stepping onto the street, bearded and scruffy is former Selfridge's employee Henri Leclair (Gregory Fitoussi). A far cry from the suave Henri who left for New York years before, he lights a cigarette and moves off into the darkness. As Harry and Gordon walk home Harry steps on a discarded, grubby newspaper with an ominous and now infamous headline: ARCHDUKE FRANZ FERDINAND ASSASSINATED. Life will never be the same again. War is coming.
(Directed by Anthony Byrne, written by Andrew Davies and Kate Brooke British viewing figures for this episode 5.3 million)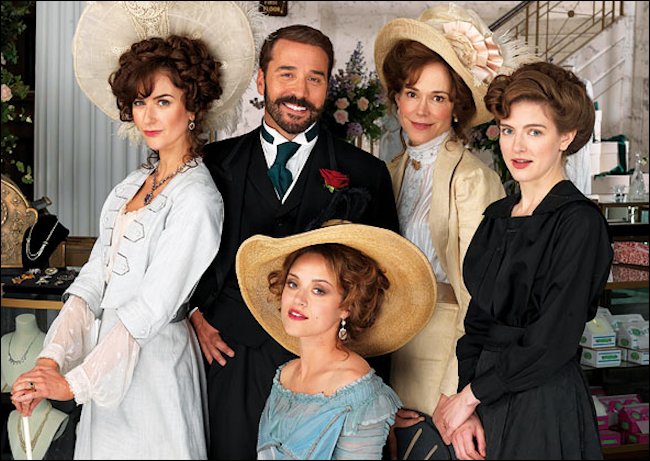 The female cast of Mr Selfridge with the man himself
Episode 2
As the Selfridge's staff arrive for work they have to cross a trade union protest at the staff entrance. Demanding better rights and protections for workers, the protest is stirring up emotions with the staff – especially with all the talk of war. Grace (Amy Morgan) and Jessie (Sai Bennett) wonder if Mr Selfridge will go back to America if war comes? Will their jobs be safe? Harry (Jeremy Piven) wants to reassure the staff and the public that he isn't going anywhere. Kitty (Amy Beth Hayes) has the idea of holding a tango demonstration for the staff, to thank them for all their hard work. Tango's all the rage, and Delphine's club has some tango dancers currently in residence. Harry loves the idea, but wants to reassure the public too by having some sort of Celebration of the Empire within the store. Mr Thackeray (Cal MacAninch) devilishly suggests the Empire Celebration last a whole week, across all departments, just to put pressure on Agnes (Aisling Loftus). Lady Mae (Katherine Kelly) is escaping to the country, without Lord Loxley (Aidan McArdle). But her plans are thwarted when Loxley reveals he's leased the country estate out. Meanwhile, Rose (Frances O'Connor) is convinced she saw Henri (Gregory Fitoussi) at the club last time she was there, and asks Delphine (Polly Walker) if she has an address for him.
Rose persuades Harry to think about holding the staff tango party at Delphine's club. After checking out Delphine's club for himself, he agrees, and hopes it'll help him win Rose back. Harry sends Lady Mae an invite to the tango party, and Loxley invites himself along too – much to Mae's frustrated displeasure. Trade unionist Arnold Huxton (Iain McKee) stops by the loading bay to rustle up support. Being a member of a union is banned at Selfridge's as they have an active staff council, and many other benefits. Despite this, Ed (Jonathan Howard) and Dave (Daniel Kendrick) are still interested in the union. They arrange a secret meeting with Huxton the night of the tango party, but Harry's son Gordon (Greg Austin) has overheard their plans.
Rose visits Henri, who is living in squalor, unkempt and a far cry from the elegant Henri who left for New York four years ago. Although Rose wants Henri to make up with Harry, who needs him more than ever, Henri is disinterested and tells her to leave. The tango party at Delphine's is a big success, and the staff dance in the face of war. The sultry, sensual demonstration sets pulses racing – not least Frank's (Samuel West) who can't believe how brilliant Kitty is when she volunteers to dance in front of everyone! Victor (Trystan Gravelle) and Agnes (Aisling Loftus) share a refreshed flirtation until Agnes says there's nothing left between them. Soon enough, The Loxleys arrive, and when Lord Loxley approaches Harry to talk business, Harry rebuffs him.
Mr Grove (Tom Goodman Hill) has got himself drunk, admitting to Crabb (Ron Cook) that he feels overwhelmed by work and family life. He worries about the prospect of war, and the impact it'll have on his children. Meanwhile, Gordon has sneaked into the secret trade union meeting in the loading bay. When Selfridge's staff start realising how good they've got it, with a staff dentist and doctor, schemes for betterment and such like. The unionists get agitated and a fight breaks out, with Gordon in the middle of it. There's big trouble between Harry and Rose when Delphine lets slip about Rose visiting Henri. Harry can't believe Rose didn't tell him Henri was in London. Their marriage remains fragile, strained, and incredibly complicated. This is mirrored in the Loxley household: when Mae mocks Loxley about being rebuffed by Harry – a lowly shopkeeper in his eyes – he hits her hard across the face. Mae lies on the floor, shocked and scared.
(Directed by Anthony Byrne, written by Kate O'Riordan British viewing figures for this episode 3.99 million)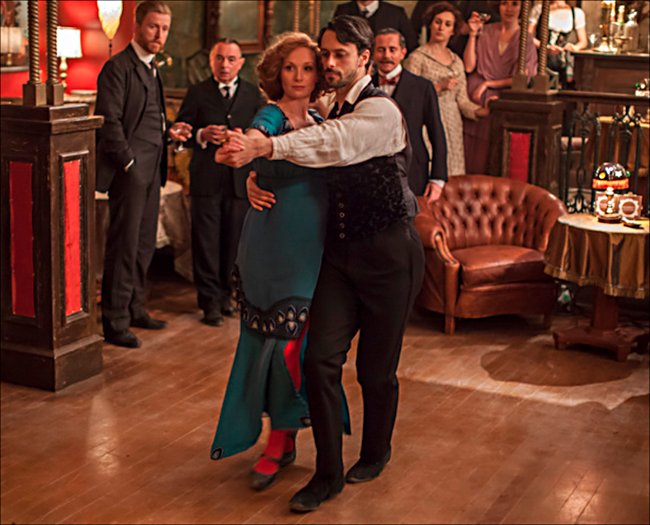 In the TV period drama Mr Selfridge the staff enjoy a tango party at the Delphone's club
Episode 3
July and August 1914 Agnes struggles to get the empire exhibition ready, undermined by Mr Thackeray and the rival departments needs, and Selfridge offers Henri Leclair, to her delight and Victor Colleano's displeasure, a job to assist her. Lord Loxley pays Selfridge a visit to tell him he can get Winston Churchill to open the event in return for information on leather suppliers, while Lady Mae discovers her husband is bankrupt, information she conceals from Selfridge. Mr Grove handed his final warning when late for work again pulls himself together and discovers 80% of the male staff are eligible for the army. Rose finds her son Gordon's collection of racy photos, and they have a heart to heart over the relationship of his parents. War is declared between Britain and Germany. (British viewing figures for this episode 5.43 million)
Episode 4
News of the first horrors of war in Belgium, threaten a staff shortage as the men of Selfridges enlist headed by Agnes Towler's brother, George. Selfridge appoints Henri Leclair as his deputy to the displeasure of Thackeray. Rose, Delphine and Lady Mae organise a chocolate sale to aid refugees. Miss Mardle is impressed by Belgian chocolatier Jean Neuhaus (Anthony Howell). Victor, about to enlist, faces a family crisis when his uncle has a heart attack. Lord Loxley gets his shady money-making plans off the ground. Frank Edwards, with little sympathy from Selfridge, finds his war reports are censored by the government. (British viewing figures for this episode 5.57 million)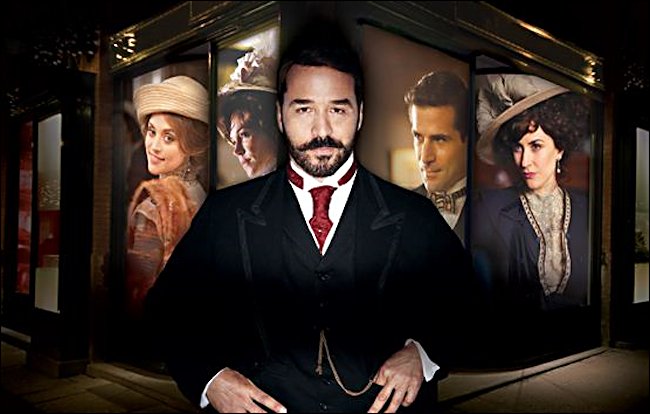 Mr Selfridge is played by american actor Jeremy Piven - photo ITV
Episode 5
The women now working in the loading bay are struggling to do the job in the clothing provided until Rose Selfridge steps in with some suggestions to make the clothing women-friendly. Selfridge wants to do more for the war effort, so Delphine arranges a card game with several senior government figures who could help. Selfridge suggests to Lady Mae that Lord Loxley attend, which Loxley is pleased to do believing he can beat Selfridge. Crabb organises rifle training for the staff and Rose Selfridge includes the women. Thackeray's interest in Henri Leclair's secretive behaviour reaches a new level when he follows him. Miss Mardle receives a Belgian refugee as house guest, a violinist. (British viewing figures for this episode 5.17 million)
Episode 6
German goods are removed from the shelves, and the British government see an opportunity for Selfridge to go secretly to Berlin to engender information. Selfridge organises a charity concert to foster patriotic sentiment and Lady Mae helps out by arranging for her old friend, music hall singer Richard Chapman (Alfie Boe) to perform at the event and Miss Mardle offers the services of her lodger as an accompanist. Agnes and Victor are going out together and he makes a proposal. Thackeray believes Leclair is a German spy and his response is a surprise. As the concert starts Selfridge is spirited away by the government. (British viewing figures for this episode 5.19 million)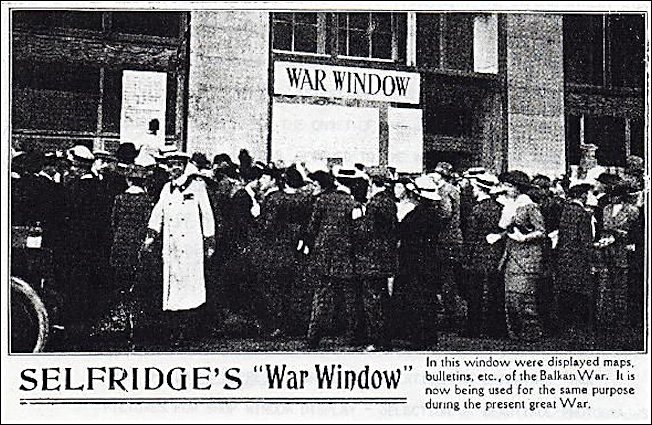 The War Window of Selfridges Department Storeduring world war one
Episode 7
In the absence of Selfridge the store is run by Grove and Crabb, who have to deal with Leclair's arrest as a spy with the help of Agnes and Victor. With the death of a worker from the loading bay on the front line, Gordon Selfridge takes on the task of writing a condolence letter. Selfridge, in his absence, is accused by Lord Loxley of providing substandard army equipment to the British Troops and ensures Frank Edwards publishes the scandal together with the knowledge that Selfridge is in Germany. Lady Mae leaves Loxley. Agnes receives a telegram. Leclair, cleared as a spy, is rearrested and handed over to the Americans for embezzlement. (British viewing figures for this episode 5.22 million)
Episode 8
Returning from Germany, Selfridge finds his reputation in tatters and the store losing business. Delphine helps by arranging a visit to the store by Hollywood stars and producer Mack Sennett. Agnes, whose brother is missing in action, asks Selfridge to help Leclair by finding the mysterious woman he was looking for, and Selfridge asks a favour from his government contact. Lady Mae, to end her association with Lord Loxley, decides to help Selfridge but he rebuffs her. Selfridge finds the woman who can clear Leclair's name. (British viewing figures for this episode 5.19 million)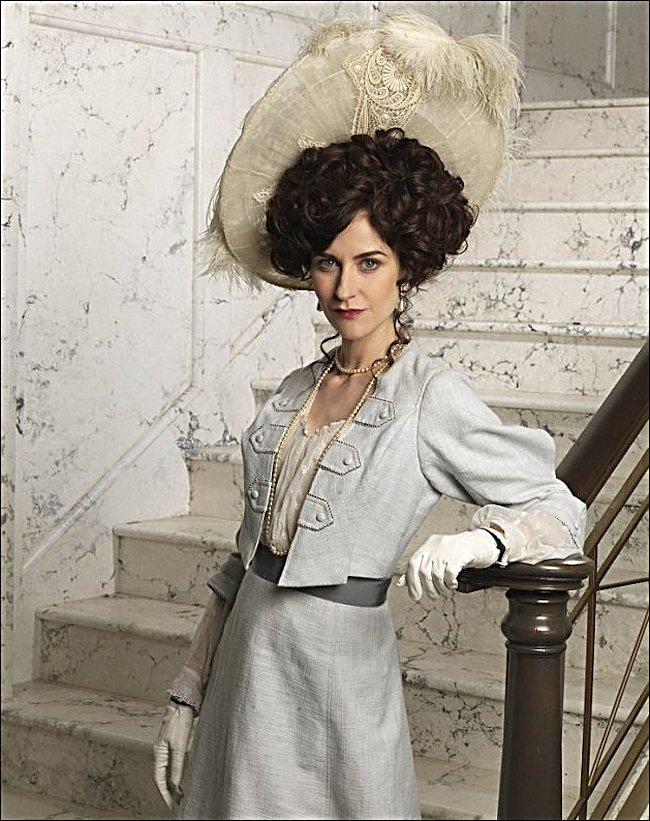 Actress Katherine Kelley plays Lady Mae Loxley in Mr Selfridge - Photo ITV
Episode 9
Losing customers, Harry is determined to get the store back on track and asks Delphine to organise a special event in the Palm Court restaurant. Leclair suggests he invite American journalist Winifred Bonfils Black (Sara Stewart) to write a story about Selfridge's. Agnes doubts she has made the right choice in Victor Colleano. Lady Mae is taken in by the Selfridges, and she and Frank Edwards unite to help Selfridge but his plan backfires. Selfridge's daughters and his mother arrive from the United States just as Rose is diagnosed with lung congestion and has to spend time in the country. Lady Mae gives Delphine an ultimatum and Agnes receives a visitor. After an improper suggestion by her at attempting to seduce him, Selfridge rejects Delphine and tells her he wishes never to see her again. (British viewing figures for this episode 5.01 million)
Episode 10
Late November 1914 Victor and Agnes tell Selfridge they intend to resign when they marry and Leclair intends to join the French army, causing all three to have second thoughts. Lady Mae searches Lord Loxley's papers for the proof that will clear Selfridge. Miss Mardle tells her Belgian violinist, Florian, that she reciprocates his feelings but is somewhat wary due to their differing age. Before a family thanksgiving dinner Rose Selfridge confides to her husband about the graveness of her condition/illness. Harry is devastated. (British viewing figures for this episode 5.23 million)