Afternoon Tea at Selfridges
One of the great British traditions is to indulge oneself by having Afternoon Tea with friends and family at a posh hotel or department store. Men always had pubs or coffee houses where they could meet their mates after work or discuss business. They were not the sort of places a refined lady would frequent. When they went shopping there was a requirement for a suitable location where ladies could meet, chat, have some refreshment, relax and use the toilet facilities. The British Tea Room was born.
Afternoon Tea is different to going into a high street cafe and having a cup of tea and a cake. Afternoon tea is more like going out for a meal. You have to be very hungry to take full advantage of the gastronomical treat to come. Once you have selected the type of tea you like, a three tiered cake stand is delivered to your table. On the bottom will be a selection of sandwiches. In the middle you will find some scones that you have with butter, clotted cream and jam, on the top will be the most delightful selection of cakes.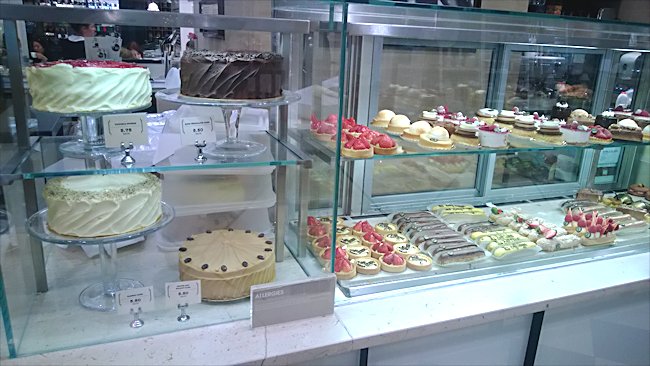 Cakes on display in Selfridges Department Store, 400 Oxford Street, London W1A 1AB
Since 1909 Selfridges has always served afternoon tea for its customers. Over 100 years later it is still offering the same service. The above photograph shows just some of the cakes that form part of those that will be placed on your table. They range from standard British cakes and tarts to fancy ones from France and Italy. The tea room can be found in the centre of the store on the ground floor near the central elevators. It is very popular. It is a good idea to phone and book a table so as not to be disappointed. In the photograph below you can see a group of three girls enjoying their cakes. The cake stand is nearly empty.
The quality of the tea and food on offer at Selfridges Afternoon Tea experience is excellent. What lets it down is the atmosphere. There is no elegance. That is a statement that can sum up the whole department store. The new owners have gone for the modern look which I find disappointing. Stores like Fortnum and Masons, Harrods and London hotels like the Ritz, the Savoy, and Claridges offer a much better stylish environment in which to partake in traditional afternoon tea. The costs vary in different hotels and stores from the outrageous to the just about affordable for a special occasion range. Selfridges is on the more affordable end of the scale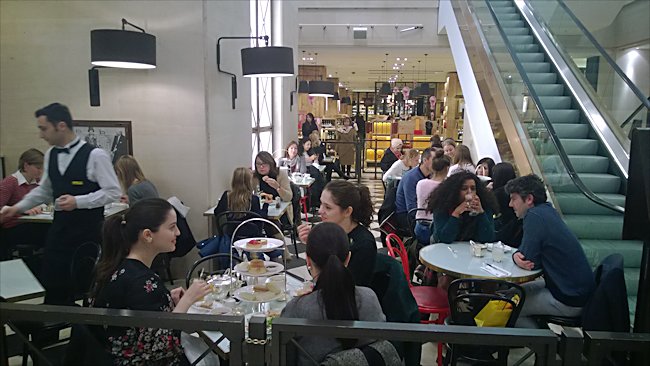 Selfridges Department Store tea room in its London Store in Oxford Street.
The photograph below of Mr Selfridge's Afternoon Tea menu was taken in January 2014. This will give you an idea of what will be served to your table if you are able to get a reservation on your next shopping trip.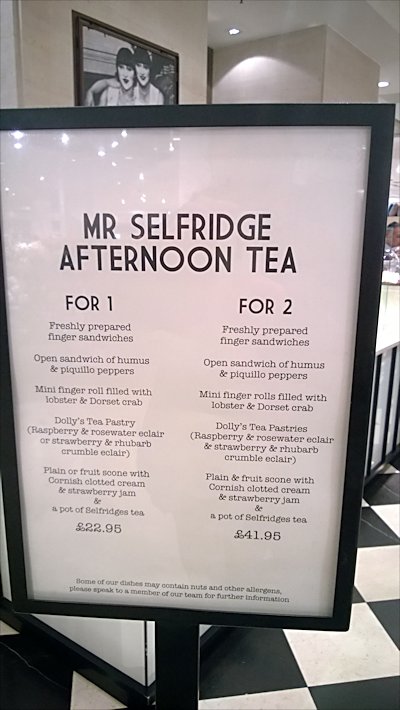 Selfridges Department Store Afternoon Tea Menu