The main street entrance to Selfridges food hall can be found on the west side of the department store in Orchard Street. It has a 1970's architectural style which contrast to the Greek and Roman neo-classical columns on the store frontage in Oxford Street. I was disappointed when I first saw this entrance. I was expecting something grander, more elegant rather than functionary. There does not seem to be a continuity in style. You do not have to use this entrance to entre the food hall. If you use the main entrance then head to towards the centre of the store and then turn left whilst following the signs.
If you enter the store from Orchard Street you are confronted by a number of eating establishments before you can see the various food stalls. It is a ploy to entice passing commuters, office workers and tourists in to the store to have a drink and order some food.

Selfridges Department Store, 400 Oxford Street, London W1A 1AB
The choice of interesting and unusual items for sale in the Food Hall at Selfridges London department Store is huge. It is a shopping experience that assaults the eyes, nose and taste buds in a very pleasant way. I challenge anyone to spend time walking between the different food counters and not get a little bit hungry. It may look like a modern shopping centre supermarket but the products that are on sale include luxury pies, pickles, terrines, cakes, tarts, biscuits, chesses, jams, sweets, chocolates, fine wines, beers, ciders and spirits.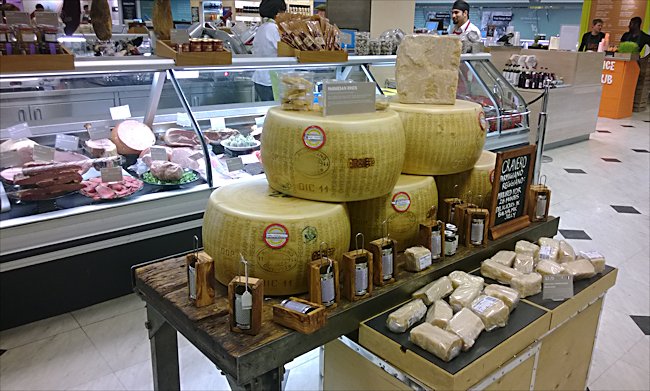 Selfridges Department Store, 400 Oxford Street, London W1A 1AB
The food on sale is of the best quality and very well presented. Many people just come in to make a small purchase so they can leave holding a prestigious Selfridges Food Hall bag. When they go back home they can proudly walk around their local shops with their new bag and subtly show off that they have been to London and shopped at Selfridges.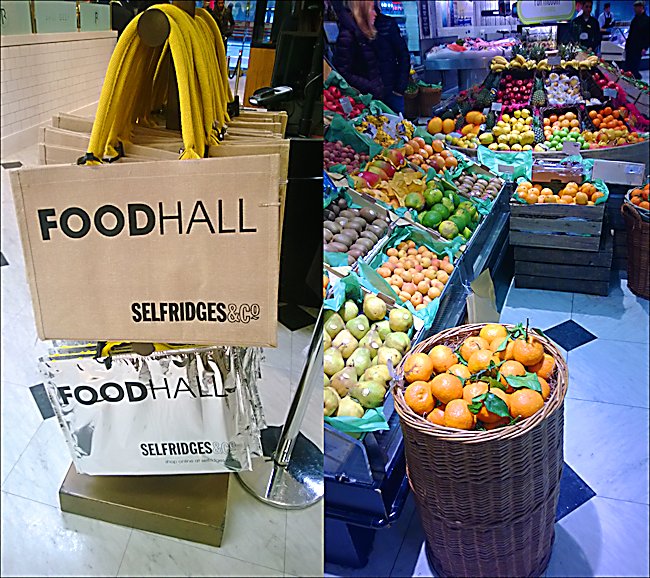 Selfridges Department Store, 400 Oxford Street, London W1A 1AB
One of the traditions at Selfridges is their salt beef sandwiches served with mustard on white rye bread and eaten with a pickled gherkin (50p extra). They have been sold at the Brass Rail salt beef bar for many years. They are not cheap and are defiantly on the list of things to have on a special occasion rather than every day. The meat is cooked fresh and carved up in front of you then weighed before being placed inside your sandwich. The picture below is of the delicatessen counter in Selfridges where you can buy salt beef and large pickles to take home and make your own sandwiches.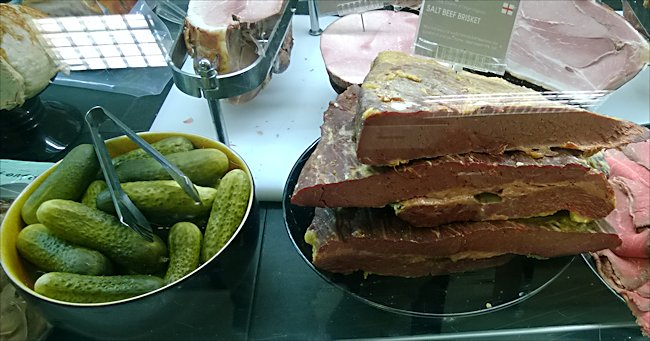 Selfridges Department Store, 400 Oxford Street, London W1A 1AB
The top part of the photograph below is the retro looking Selfridges Brass Rail salt beef bar. You can see where it gets its name from. There are a lot of brass rails used as part of the decoration. It is not elegant dinning. It is a place to have a sandwich and a drink. But boy what a sandwich. You get a lot of meat and everyone I have had has been excellent. The salt beef brisket is always tender and the touch of mustard enhances the flavour. You feel like you have had a meal by the time you have finished. Personally I would prefer a more robust crusty bread. In the background you can see the food hall.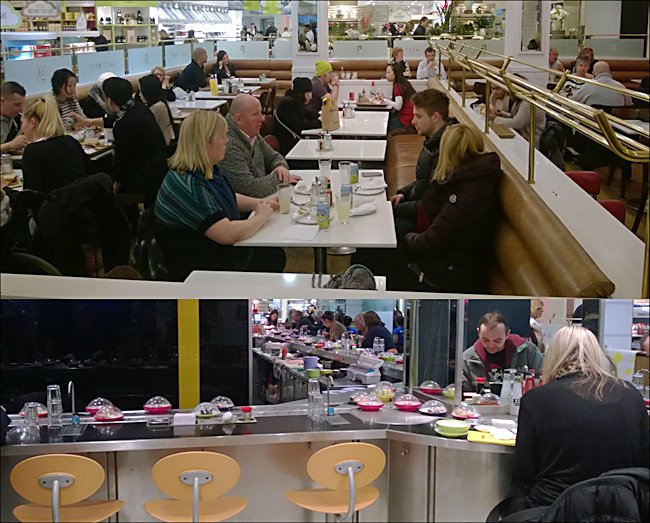 Selfridges Department Store, 400 Oxford Street, London W1A 1AB
I was very surprised to find a sushi bar complete with moving table top and dishes, inside the Selfridges Food Hall. You can see it in the bottom half of the above photograph. It is quite extensive and a good addition to the variety of eating establishments on offer to the hungry shopper. Just remember not to get your tie or scarf caught in the conveyor belt when you make a grab for a dish.