Harry Gordon Selfridge was an American retail entrepreneur who at the turn of the last century moved to London and successfully introduced the art of seduction shopping to his new London department store in Oxford Street.
Harry's Childhood
Lois Frances Baxter married Robert Oliver Selfridge on June 15, 1853, in Jonesville, Michigan. He was born 11th January 1858 in Ripon, Wisconsin, USA. He had two brothers and the whole family moved that same year to the town of Jackson in the state of Michigan. His father took a calculated gamble and took ownership of the town's general store. It had just under 10,000 residents and was a railway hub for six different railroads. There should have been enough trade in the town to keep his new shop in profit. When Harry was three years old the American Civil War started. His father enlisted in the Union Army South Michigan 3rd Cavalry Regiment 3rd October 1861 at the rank of 1st Lieut and reached the rank of Lt Colonel with the Michigan Volunteers. Something happened to him when the war ended in 1865. He made the decision not to return to the family home and business even though being honorably discharged. His family believed he was one of those presumed to have died fighting for the North. It was only when Harry's mother was notified of his death seven years later in a railway accident in St Louis did she discover that he had left them.
Lois Selfridge could not manage the store on her own and now had to look after three young children. The store was sold and she obtained employment as a school teacher. Then disaster struck. Harry's two older brothers died of a sickness. After the war there were a lot of single parent families. Lois found it a hard struggle to financially support them both. She supplemented her income by creating a small sideline business selling hand painted greeting cards. She was eventually appointed to the position of headmistress of Jackson High School. The relationship between Harry and his mother was always close. They had been through so much hardship together. They lived together until her death.
Harry's first job was delivering newspapers around the streets of Jackson when he was aged 10. At the age of 12 he obtained a better rate of pay working for Leonard Field's Dry-goods Store, 201 W Michigan Ave during the school holidays.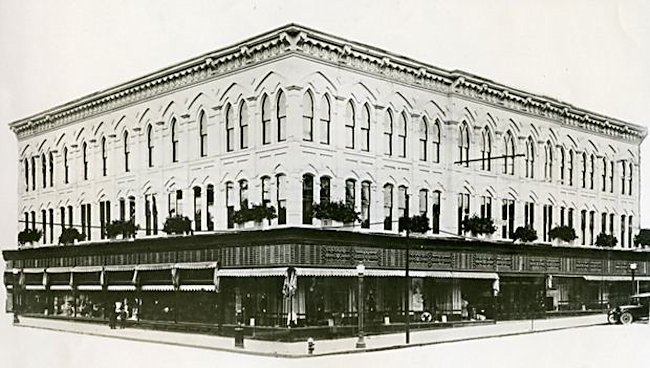 Leonard Field's Dry-goods Store, 201 W Michigan Ave, Jackson, Michigan, USA
Harry's Teenage Years
In 1872 Harry left school aged 14 and found a full time job in a bank in Jackson. I think he had become restless and wanted to see some of the world so he applied for the United States Naval Academy in Annaapolis, Maryland. He would be taking after his father who had been a successful military man with the added benefit of sailing the oceans and visiting exotic places. His hopes were dashed as he failed the entrance exam.
He was obviously not happy working at the bank as his next job was for Gilbert, Ransom and Knapp. They were a furniture manufacturer in Jackson. Harry was employed as their bookkeeper because of his banking background. Luck was not on his side again as the company went bankrupt after only four months. He decided to pack his bags and move to the big city to try his luck. His former employer, Leonard Field wrote Harry a letter of introduction that explained his previous retail experience. The letter was sent to Mr Marshall Field, a senior partner in a large retail store in Chicago called Field Leiter and Company. This store was later taken over by Macy's. In 1876 when Harry Selfridge was 18 years old, he was working as a stock boy in the warehouse department of this large Chicago store. Over the next 25 years he rose up through the commercial ranks learning all he could to help him progress to the next level in the business. His mother had moved to Chicago to be with her son.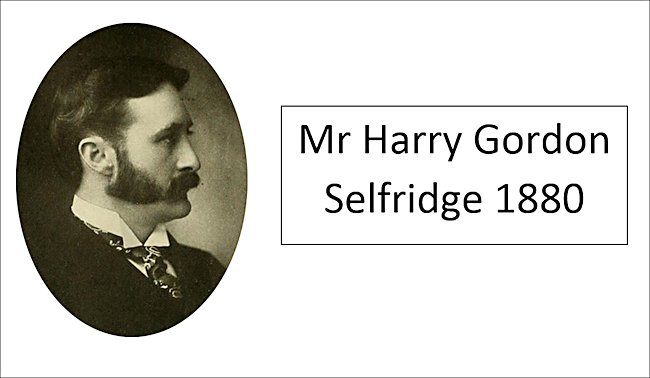 Harry Gordon Selfridge 1880 aged 22
Harry's time at Marshall Field & Company Store (Macy's)
The retail store burnt down in the great Chicago fire of 1871 but was rebuilt and reopened in 1879. In 1882 Leiter sold his interest to Field, who changed the name of the business to Marshall Field & Company. It was biggest retail store of its kind outside of New York. It featured a vast array of goods elegantly displayed in separate departments, Men's Outfitters, Haberdashery, kitchen ware, ladies fashion, children's toys and clothing, furnishings. This is how the name department store came into being. It was staffed by well-dressed and carefully trained sales assistance who treated their fashionable clientele like guests rather than mere customers. Although Harry Selfridge started his career with Marshall Fields in its wholesale division his real interest was in retail. He knew that one of the secrets to profitable sales was to please the female customers. He rose through different management levels by suggesting and successfully completing new projects like a separate shoe department, one for children's wear and even one for glove cleaning. One of his most popular projects was the introduction if a tea room in 1890 where ladies could watch staff members modeling the latest fashions, whist enjoying a cup of tea and a piece of cake. Many of these innovative ideas he brought with him to London. He is credited with coining the phrase "The customer is always right" and being the first to warn customers that there were "only" however many "shopping days to Christmas".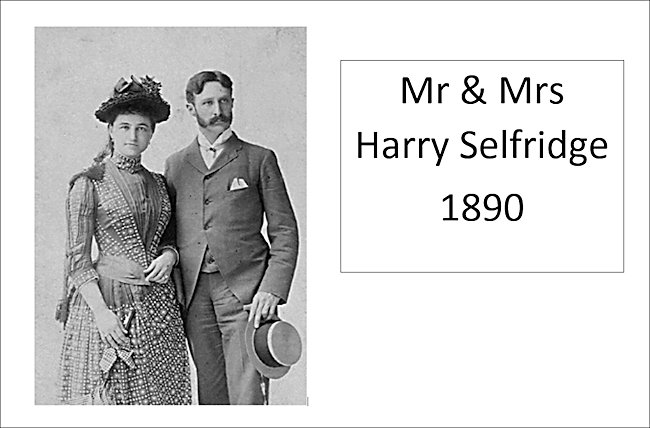 Photographic portrait of Harry Gordon Selfridge and his wife Rosalie 1910
Harry falls in love
This rising star was now moving in the very best circles. He was introduced to Miss Rosalie Buckingham. Her rich father was part of a very successful family property business. Rose, as she liked to be called, had inherited some money of her own and with the expertise and skill of her family, become a successful property developer. She married Harry Selfridge in 1890. The had four children, one boy and three girls.
Harry's first business
In 1904 Harry was 46 years old. He was a junior partner. He left the company after the owner Marshall Field refused to grant him a full partnership and rename the store Field Selfridge & Co. He sold his $1.5 million interest in the company. He was a rich man and decided it was time to run his own retail store. He purchased a store called Schlesinger & Mayer for $5 million (now the Sullivan Center in State Street). It was on the same street as Marshall Field & Co department store. He was unhappy with having to compete with the friends he had spent most of his adult life, so when he received a very good offer for the store only three months after completing on his purchase. He sold it to Carson, Pirie, Scott & Co department store group and made a handsome profit on the transaction. He was now a very wealthy man. He could have retired and spent the rest of his life enjoying the money he had accumulated. He did send some time with his family and going on vacation. In 1905 whilst on a tour of Europe he noticed how outdated the retail industry was in London. He decided to bring modern American retail know how to revolutionise the British shopping habits. He was restless. He wanted a new challenge.
Harry moves to London
He spent £400,000 building a retail emporium in Oxford Street. His business partner Mr Waring had second thoughts about the safety of his investment, possibly because of all the ideas Harry Selfridge wanted to introduce to his London store. He withdrew his backing at the last minute. Customers were amazed at what they found when they first walked through the doors of Selfridges new London department store in 1909. Nothing like this had been seen before. Customers were welcomed in by staff, under palm trees string quartets were playing, there was a library and a tea room. Over 90,000 customers had entered the shop by noon on its opening day.
Harry Selfridge had witnessed the benefits of using new American steel frame construction methods that allowed the full use of unobstructed interior space. More floor space was available to display and sell goods than similar sized brick built buildings. The exterior granite curtain walls no longer needed to be load bearing and could feature large windows to illuminate the interior retail space with natural light. This was the radical model he introduced to Britain and used on his flagship store in Oxford Street. It was designed by Chicago architect Daniel Burnham.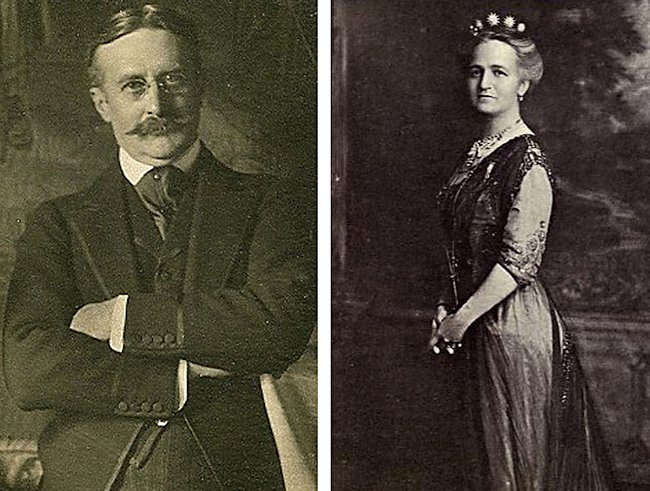 Photographic portrate of Harry Gordon Selfridge and his wife Rosalie 1910
Harry introduced the concept of the wedding list to London shoppers. He was one of the first to use celebrity endorsement to get the attention of the public and the press for event and product launches. One such example was in the appearance of Logie Baird in 1925 to demonstrate a television to the public for the first time. He is said to have coined the famous term, "the customer is always right". He experimented with the "try before you buy" concept and the "bargain basement". He believed in allowing customers to touch, feel and smell the products on sale rather than having them locked away behind glass display counters that were still popular in his competitors stores. since Victorian times.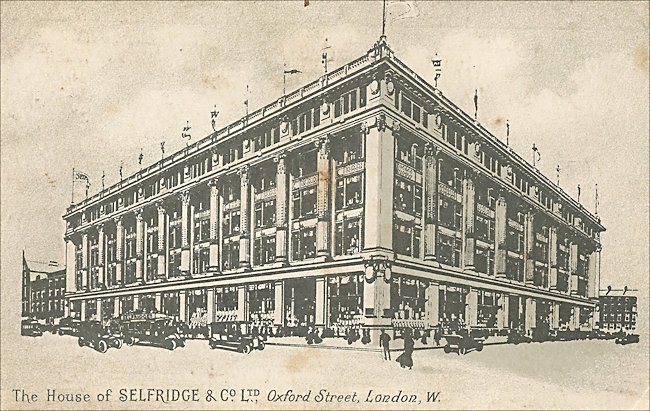 Selfridges Department Store, 400 Oxford Street, London W1A 1AB
His Edwardian shopping experience had its shelves packed with exotic items not normally available in London; Parisian powder puffs, Persian rugs, Moroccan kid skin gloves, hand made Italian boots, Venetian chandeliers, marble flooring tiles and many other trinkets sourced from around the world. Selfridge is credited with promoting the glamour of cosmetics and perfume by putting the display counters at the front of the store rather than hiding them away in a discreet side room. Because of the way his shop was constructed it had huge glass windows around the outside at street level. He used this vast space as a stage to put on theatrical window displays. His customers were his audience. Harry was passionate about what all his projects and knew how to inspire his staff. He can be called the father of British modern consumerism having changed how people shop and raised their expectations.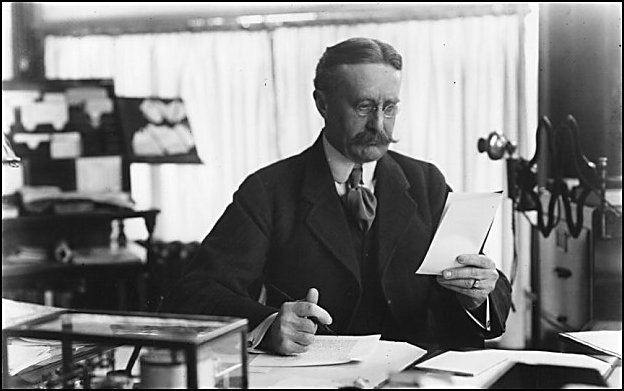 Harry Gordon Selfridge in his office in Selfridges Department Store, 400 Oxford Street, London W1A 1AB
Harrys financial fall and his death
Harry Selfridge loved his children and wife Rose, but he was a complicated man who just could not help himself having affairs with actresses and show girls. He was a very rich man and a target for an number of gold digging women. His lovers included Isadora Duncan, Syrie Maugham, Anna Pavova, and Lady Victoria Sackville. After his wife died in 1918 of the Spanish flu that swept Europe after World War One he started to fritter away his fortune on high living, gambling and mistresses. In 1936 Harry had over spent. He could not pay £150,000 he owed to the Store, he was forced by fellow company board members to resign from Selfridge's, and take the honorary title of Company President or pay the outstanding money. He resigned from the company with a pension of £6,000.
That same year, at the age of 80, he became a British citizen. In 1939 he was faced with a tax bill for £250,000 which he could not pay. The Company reduced his pension down to £2,000 a year in a deal with the Inland Revenue and Harry moved in to his daughter Rosalie and her husband Serge's two bedroom red brick apartment called Ross Court, 81 Putney Hill, London SW15 3NY near Wimbledon Common.
The Selfridges Company board added insult to injury by removing the apostrophe from the company's Selfridge's name to reinforce that he no longer owned an interest in the store. He would be spotted on occasions in Oxford Street gazing at the store he had created. He would travel around London by bus. Once the police arrested him mistaking him for a vagrant. He died peacefully in his sleep aged 89 on 8th May 1947. He was buried in St Mark's Churchyard at Highcliffe, Dorset, next to his wife and his mother