What is the history of Selfridges?
Harry Gordon Selfridge was aged 51 when he opened his new flagship retail emporium in Oxford Street in the centre of London. He was already a very rich man. He could have retired and enjoyed his leisure playing golf. He tried spending time at home with his family and going on long holidays but he was restless and needed another challenge. He had risen up from being a stockman in an Chicago department store's warehouse to being a junior partner in 25 years. He had a very good wage and a large stock portfolio. His wife was a good business woman who specialised in property development. Harry had obtained an immense amount of knowledge and skill in in the new art of department store retail marketing. When he was refused permission to become a full partner in the company he resigned and sold his stocks. He then purchased his own department store in Chicago but sold it within three months at a huge profit.
Whilst travelling in London as part of his European tour he was shocked to see how antiquated the British Shopping practices were. Here was the challenge he was looking for. He saw that he could bring modern American commercial architectural and retail practices to the United Kingdom and revolutionise the expectations of European customers.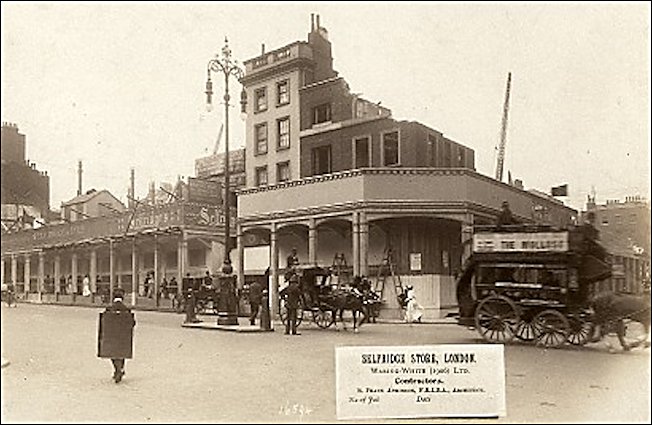 Selfridges Department Store under construction at 400 Oxford Street, London W1A 1AB in 1908
Harry Selfridge purchased a number of business on a plot of land along Oxford Street, between Duke Street an Orchard Street. In 1908 he started to demolish them. You can see this happening in the above photograph. Once they were cleared the skeleton of iron work that would form the internal load bearing structure was erected. This form of construction was very new and had lots advantages. The first major building to use this method in London was the Ritz Hotel two years earlier in 1906. It enabled extremely large windows to be placed around the outside of the store where products could be displayed to entice Oxford Street Shoppers to come inside. More importantly because the weight of the building was being taken by the iron beams there was no longer a need for a lot of internal supporting brick walls. This meant that the amount of unobstructed space inside where products could be displayed was double that of any other store in London at that time. What I find interesting is that the exterior of Selfridge's store was clad in stone and plaster to give an imposing neo-classical design using a mixture of Greek and Roman columns to make it fit in with the many Georgian neo Classic buildings that can be found all over London. This choice of style gave the shopper the impression that this imposing new building had in fact been built one to two hundred years ago.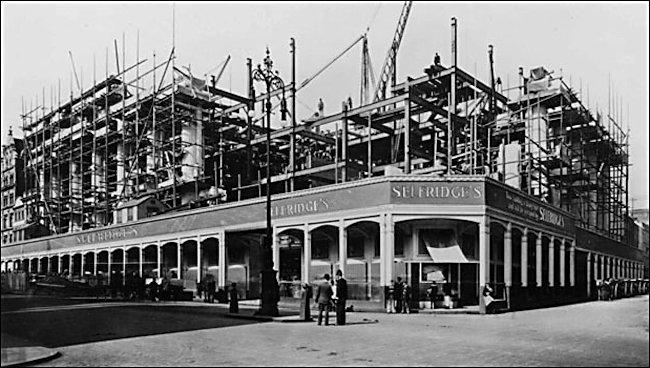 Selfridges Department Store under construction at 400 Oxford Street, London W1A 1AB in 1908
The store was opened on 15th March 1909 following an elaborate advertising campaign. The London press had been running reports on the buildings progress over the previous year. Excitement had bee escalating. Thirty police officers were drafted in to hold back the crowds. This type of scene was unheard of in London for the opening of a shop. The store was simply called Selfridge's and Harry's company was called Selfridge & Co.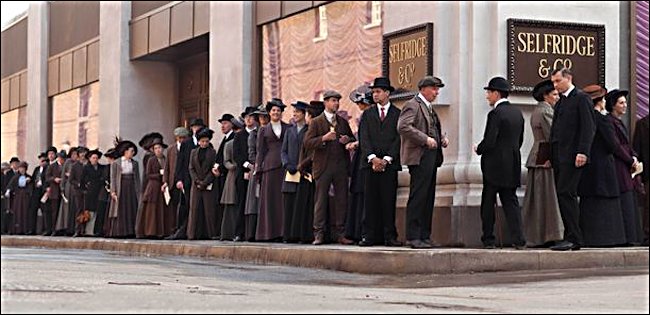 Selfridges department store on opening day 15th March 1909 customers queued up around the streets - photo ITV
To maintain the excitement surrounding the opening of the store he used the power of the celebrity to keep on attracting the crowds back to Selfridge's. On 25th of July 1909 Louis Bieriot's fragile monoplane, that he had used to enter the record books by become the first pilot to fly over the English Channel, was on public display in the store. Over the four days of the event over 150,000 shoppers visited the store. He continued to use the theatre of retail to draw in the crowds. If there was some new and exciting event occurring or record broken, Selfridge's department store would put on a display. The building's roof garden was often the venue for special events. He introduced many new and fascinating exotic product lines that had never been on sale in London before. Harry Selfridge is recorded to have said "I am prepared to sell anything from an aeroplane to a cigar".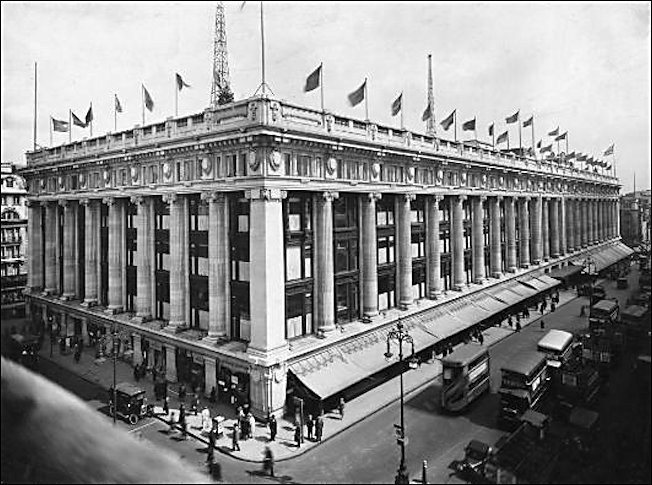 Selfridges Department Store, 400 Oxford Street, London W1A 1AB
For the first time ladies cosmetics and perfumes were put on display at the front of the store. In many other London stores at that time these products were sold in side rooms or areas hidden by blinds. This product placement idea was soon copied as it was a great success with the ladies. Selfridges also boasted a large fleet of delivery vans. At first they were horse drawn vehicles but were later powered by petrol and electric engines. The company livery was emblazed on the outside of every van and they soon became a common site all over London. Customers liked the fact that they could order big bulky items of furniture and arrange for them to be delivered to their homes, with the added advantage that the their neighbours might see that they shop at the new Selfridges store.
During 1911 to 1913 the Bargain Basement concept was introduced to attract customers from all walks of life not just the elite of London. Merchandise that could be purchased by thrifty housewives was mixed with more expensive items. Next to be introduced was a book department that expanded to become the biggest book store in the world. Harry Selfridge was a dog lover. He liked little pug dogs. He noticed that many of his customers owned dogs so he introduced a separate department that sold everything a pet owner would need.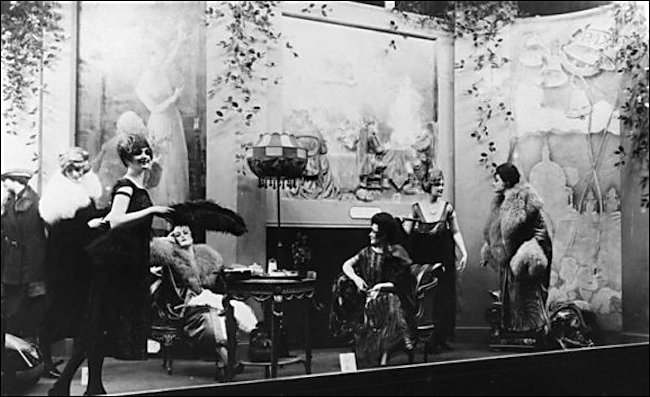 Selfridges Department Store, 400 Oxford Street, London W1A 1AB
During World War One many of the men employed at Selfridges went to war. Their positions were filled by women, some of whom took on the more strenuous jobs like driving delivery vans, loading and unloading them as well as stoking the huge shop's boilers with coal. It was during this period that Harry Selfridge came up with the phrase "business as usual". Many of the men died during the war and the horrendous "Spanish Flu" epidemic of 1918 that swept Europe claimed the lives of a number of the women working at the London store. Harry's wife Rose Selfridge was one of those that died.
The company expanded after World War One. Business was good. The London store was extended and new shops were obtained outside London. The swinging 1920's were good for the retail trade. All the new fashions were catered for every department. These ranged from red lipstick, long necklaces, to pogo sticks. The store continued to promote special events. In 1925 inventor John Logie Baird demonstrated the first television. Later the BBC would transmit live music broadcasts from the store's roof. By 1929 Selfridges was the largest European Retail group with new stores in Leeds, Oxford and Sheffield.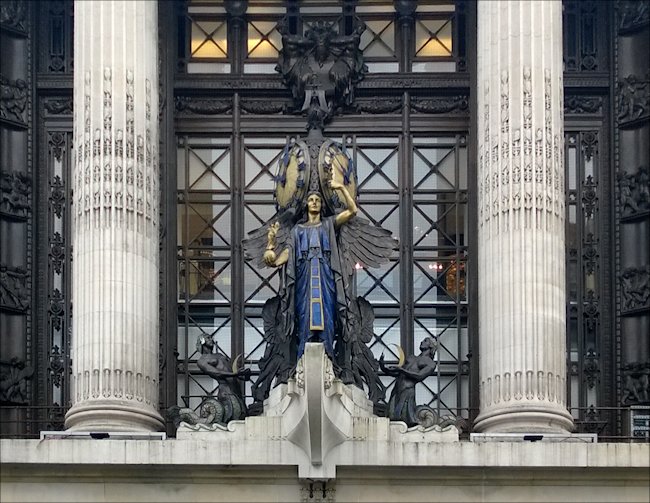 The Selfridges clock above the main entrance in Oxford Street
The depression of the 1930's had an effect on the ability of the consumer to carry on spending as they had been in the 1920's. Selfridges managed to weather the economic storm. Unfortunately the same could not be said for the shopping empire's leader. After his wife died in 1918 he continued to spend his vast fortune as if it was a never ending pot of money. He had many expensive affairs, indulged in high living and lost a lot of money gambling. At the age of 83 he was forced to resign as he was deeply in debt. The apostrophe was removed from the departments store's name. It was now just known as Selfridges.
During World War Two London Blitz, Selfridge's large windows were bricked up for safety and security reasons. The roof was damaged three times by German bombs but this did not stop the shop or staff from trading. The introduction of rationing had a marked effect on sales. It was only after the war and the gradual withdrawing of rationing books did the company start to see good profits again. In July 1951 Lewis's Investment Trust purchased the company for £3.4 million. With peace came a new prosperity. Family incomes gradually increased and that meant they had more disposable income to buy the new electronic consumer goods that were becoming available; washing machines, televisions, radios, hovers, refrigerators and cars were on the top of most peoples lists.
In 1956 with the increasing use of the motor car, Selfridges built a new modern multi-storey car park at the rear of the store with Valet parking services and a heated car ramp for cold icy wintery days. Customers could walk from their car straight into the store, via a link way into the Orchard restaurant, without having to go into the street. This was a first in London.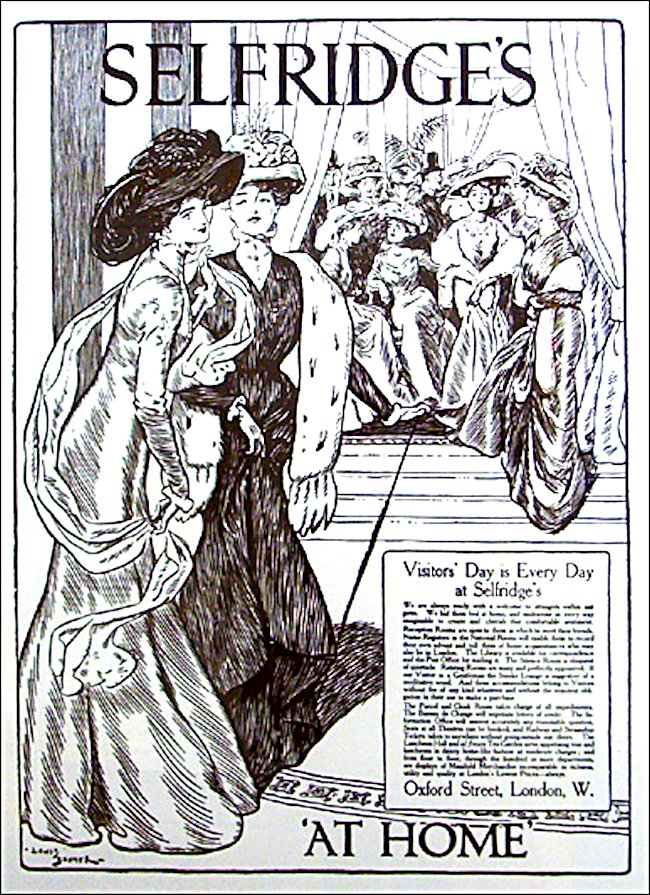 Visitors's day is every day at Selfridge's Edwardian poster
In 1965 the Company had new owners again. It was sold to Sears holdings for £63 million. Miss Selfridges was opened with its own entrance in Duke Street, to cater for the younger teenage fashion demands of the 1960's. It had its own coffee bar and pop music was played from speakers. It was an instant hit. In December 1974 the IRA terrorist bombed the store. Luckily only a few members of staff and customers were injured. It could have caused hundreds of deaths. The next day it was "business as usual". Harry Gordon Selfridge would have been very proud. The store had two major refits. The first was in 1992 and that was followed by a second in 1996 that helped transform Selfridges back to being a desirable destination for a unique shopping experience. The Selfridges Yellow bag was soon to become an instantly recognisable status symbol. More stores were opened; two in Manchester and one in Birmingham. In 2010 Selfridges launched their first online store front selling over 20,000 products.