Where was Mr Selfridges house?
Harry Gordon Selfridge was the successful American retail magnet who decided to move his family to London to start a new challenge. He had just sold his Chicago department store for a large profit, and now wanted to bring American shopping know how to Britain. In 1909 he opened his modern flagship store in Oxford Street. It was an immediate success and the company has continued to grow.
20 Arlington Street, London SW1A 1RG, London
When he arrived in London his mother, wife and four children stayed with him in a Georgian period house at 20 Arlington Street, behind the newly built Ritz Hotel and near the Green Park Underground Tube Station. Unfortunately the building was demolished in 1936 and an ugly block of apartments built in its place.
Berkeley Square, 9 Fitzmaurice Place, London
They moved to a suite of rooms in Berkeley Square, 9 Fitzmaurice Place, London. This large Georgian town house was originally built as Lansdowne House in 1763, designed by Robert Adam. In the 1930s it was remodeled by Charles Fox for use as a private club called the Landsdown Club. The front of the house was removed to enable the creation of Fitzmaurice Place. The First Drawing Room was re-erected in the Museum of Arts in Philadelphia and the Dining Room in the Metropolitan Museum in New York. The building, what's left of it, was restored in 2000.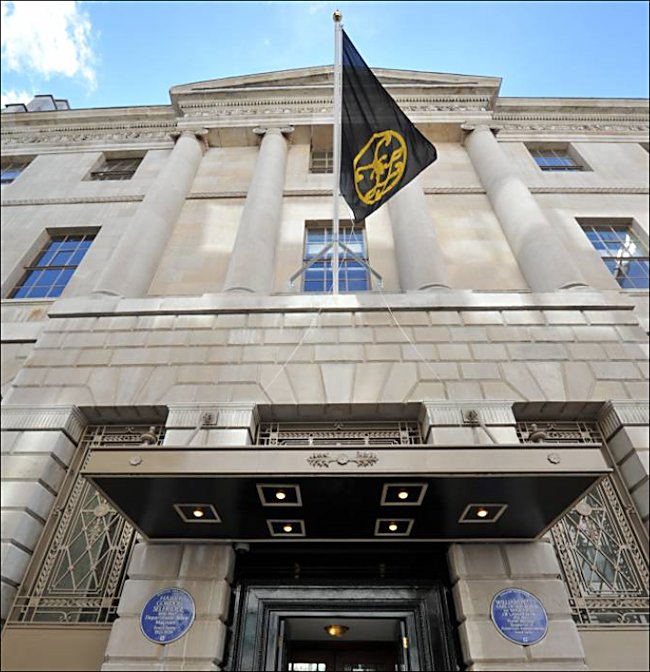 The Landsdown Club, 9 Fitzmaurice Place, London was the home of Mr Harry Selfridge
A blue plaque was placed on the outside of the building to commemorate that Harry Gordon Selfridge lived in the building, which is now The Landsdown club, from 1921 to 1929.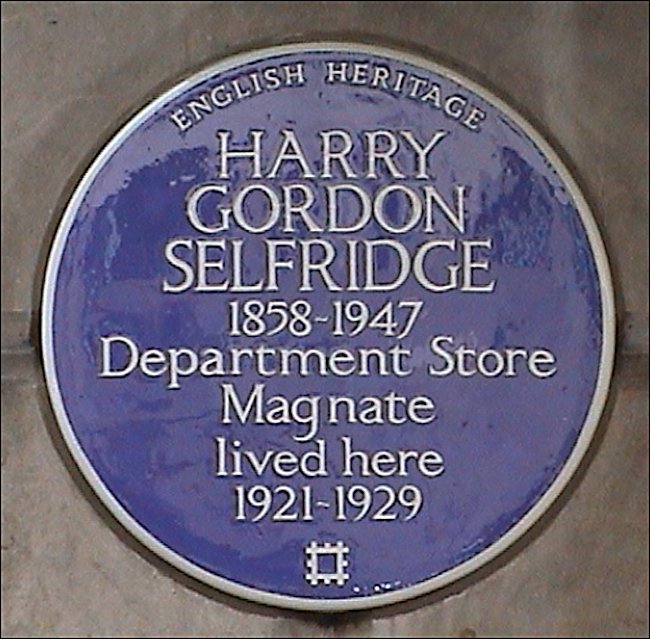 Harry Selfridges blue plaque at the Lansdowne Club, 9 Fitzmaurice Place, London W1
Highcliffe Castle, Dorset
With the out break of World War One there were a number of news paper reports that greatly exaggerated the destructive power of German bombing raids using Zeppelin airships. Yes there were a few raids that caused damage and some fatalities but never as many as the reports suggested. Harry as a concerned family man decided he would not take any risks with the security of his loved ones. He found a large English stately home in Highcliffe, Dorset that was available for rent. It was called Highcliffe Castle and to an American's eyes looked like a romantic fairytale castle from the age of knights in armour. He signed the rental agreement and moved his family from London to his new country retreat in 1916. Highcliffe Castle was not an old building. It was only completed 80 years pervisouly in 1836. It is open to the public during the summer. Its full address is Highcliffe Castle, Rothesay Drive, Highcliffe, Dorset BH23 4LE. It cost the Selfridges £5,000 a year but came fully furnished. The family loved living in the English countryside and their magnificent castle and with its extensive ornamental grounds.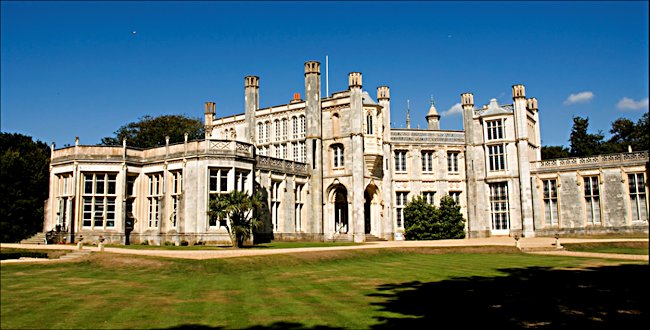 Mr Selfridge's country home Highcliffe Castle, Rothesay Drive, Highcliffe, Dorset BH23 4LE
Rosalie and Voilette, joined the Red Cross volunteers during World War one and worked at the nearby Christchurch Hospital. Not to be out done by her two daughters Harry's wife, Rosalie, took it upon herself to look after the care of wounded American soldiers. She organised a tented camp on the recreational ground in Christchurch. It was called the Mrs Gordon Selfridge Convalescent Soldiers' Camp.
Rose Selfridge caught the Spanish influenza in the epidemic of 1918. The war was still being fought around the world. She possibly caught it from an infected solider returning injured from the European front. This flu outbreak eventually killed more people than the total amount of soldiers who died fighting during the 1914 - 1918 war. The Echo newspaper reported on 16th May 1918: "The pretty village of Highcliffe and its vicinity has, in the death on Sunday of Mrs H Gordon Selfridge, lost a valued friend, whose kindness of thought for others, and abounding charity, will be much missed." Before her burial, Rose's body lay in state in the castle hall, covered by a silk sheet on which Selfridges employees has sewn 3,000 red roses. In the following months, her daughter Violette took over her mother's work. Six years later Harry Selfridge's mother, Lois, died at Highcliffe in 1924. She was buried next to Rose's grave in the local parish church. In 1919, he purchased 700 acres of a mile-long promontory called Hengistbury Head from Sir George Meyrick. He wanted to build a castle of his own with 250 bedrooms, four miles of walls and its own theatre but this wish was never completed. Instead he spent £25,000 in 1925 on improvements to Highcliffe Castle, despite only being a tenant. He paid for builders to fit modern bathrooms, install steam central heating, building and equipping a new modern kitchen. In 1930 he put the land with the sea view up for sale.
Brook House Park Lane
In 1936 Harry Selfridge, now suffering financially because of his high living, gambling and expensive mistresses, moved into a cheaper apartment in the newly built Brook House in Park Lane. The full address is Brook House, 113 Park Lane, London W1K 7AJ.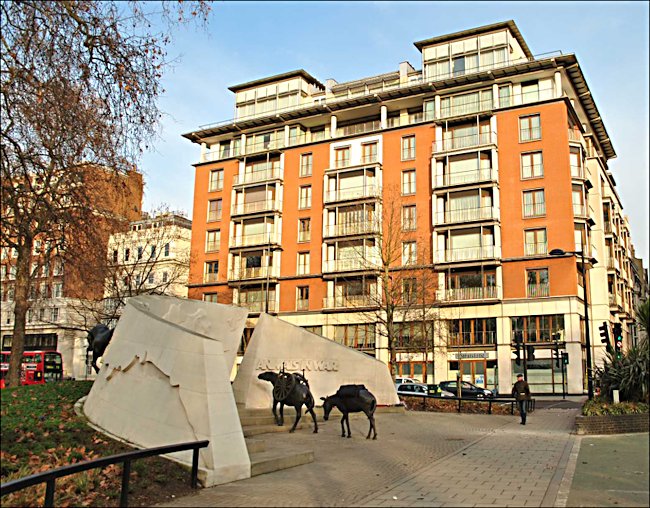 Harry Selfridge moved into an apartment in the newly completed Brook House, 113 Park Lane, London W1K 7AJ
Ross Court, Putney Heath
Harry ran out of money and could not afford the high Park Lane rent at Brook House so moved in to his daughter Rosalie and her husband Serge's two bedroom red brick apartment called Ross Court when he was in his 80s. At this stage off his life he was living on a reduced pension of £2,000 and still had large debts owing to the taxman. The full address of the building complex is Ross Court, 81 Putney Hill, London SW15 3NY. The area is known as Putney Heath and it is very near the northern tip of Wimbledon Common and the fast arterial road between London and Portsmouth called the A3. He died peacefully in his sleep here aged 89 on 8th May 1947.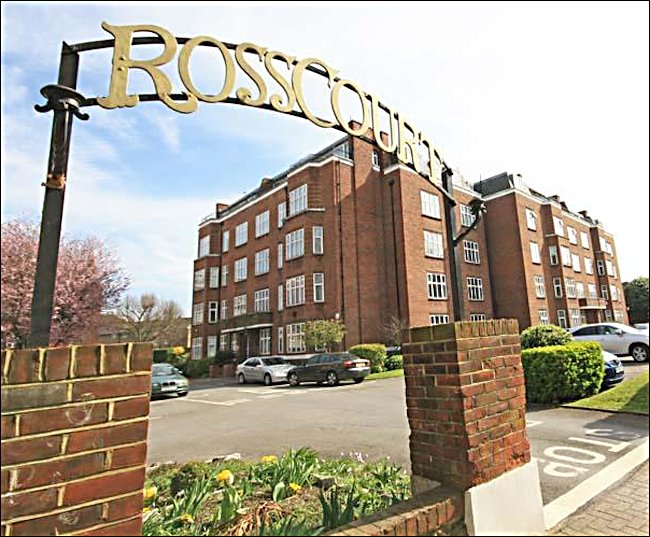 Harry Selfridge moved into his daughter's apartment Ross Court, 81 Putney Hill, London SW15 3NY