Where is Selfridges? This is the question many London tourists and fans of the TV period Drama Mr. Selfridge ask. The exact address of the flagship store in London is Selfridges Department Store, 400 Oxford Street, London W1A 1AB. I have shown it marked on the map below by a large red star. It is a huge building that has Duke street on its east side, Edwards Mews on its north side, Orchard Street on its west side and its main entrance is in Oxford Street in the south side of the Building complex.
It is easy to get too. Many bus routes include Oxford street on their route. Search on Google for the transport for London Bus maps. Entre where you are and then put in Oxford Street and it will show you what number bus or busses to take. Buy a London Transport Oyster card at a local newsagents shop or London Underground Tube Station to get a discount on your bus journey fare.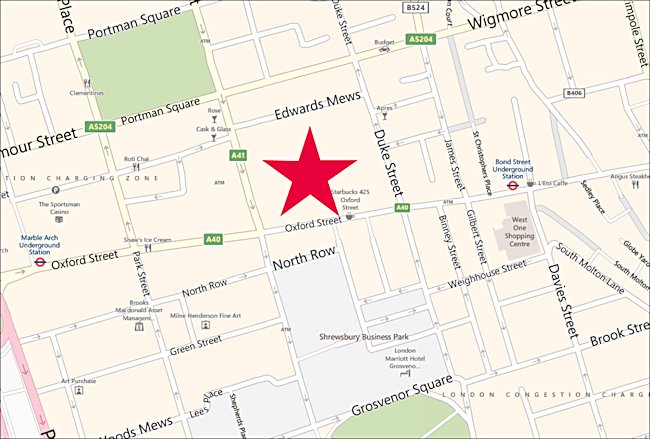 Map of Selfridges Department Store, 400 Oxford Street, London W1A 1AB - map by Bing
It is within easy walking distance of Hyde park and Marble Arch, Buckingham Palace, Big Ben, Piccadilly and Trafalgar Square. All London black cab taxi drivers know where Selfridges Store is but this is a very expensive form of transport unless you are in a group of four to five when the fare can be split between you.
Selfridges & Co have built their own car park at the rear of their shop. The Entrance is via Edwards Mews. Remember that you will be entering the London Congestion Charging Zone so not only will you have to pay to park your car but you will also have to pay the congestions zone charge. It is a lot cheaper to catch a tube train or a bus. As you can see from the map the two nearest London Underground Railway Tube train stations are Marble Arch and Bond Street. Many visitors make the mistake of thinking that because the store is in Oxford Street that the nearest Tube station is Oxford Circus. They Climb out of the Tube station's stairs and into Oxford Street to discover they have a long walk to the west until they can entre Selfridges.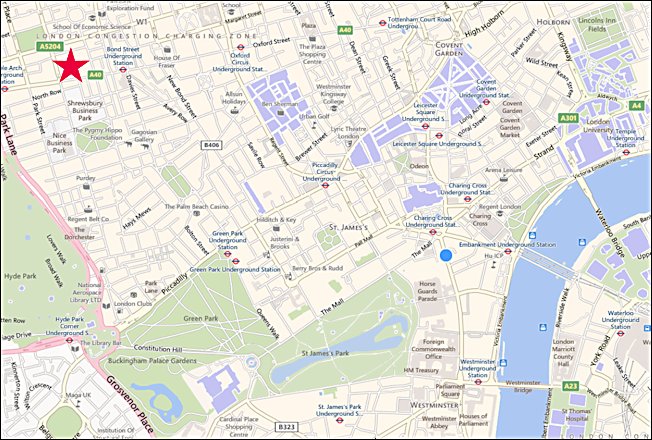 Selfridges Department Store, 400 Oxford Street, London W1A 1AB - map by Bing
Here is a bigger map of London to help you get your bearings. Selfridges' location is marked by the red star in the top left corner of the map. The purple building in the middle of the green park with two lakes at the bottom of the map is Buckingham Palace
There is a lot to see and do around Selfridges. Of course there are all the shops to visit in Oxford Street, but if you want to discover an amazing part of secret London that many visitors miss, then walk north up Duke Street. This is the road that runs on the east side of Selfridges. After a very short walk you come to the charming picturesque London Square called Manchester Square, that is surrounded with fashionable Georgian Town houses. On the north side is the Wallace Collection. It is a large Period house that is jammed packed with art, weapons, historical furniture and decorations. It is like walking into a grand country estate house in the English countryside. It is free. There is a wonderful restaurant and tea room in the in the central conservator. It is one of my favorite places in London. When you leave to head back to the hustle and bustle of crowded Oxford Street, walk down nearby James Street and then explore St Christopher's Place. I call it Little Italy because of the amount of Italian and Mediterranean restaurants that in the Summer have outdoor seating on the pavement. It is a great place sit down and have a meal or snack.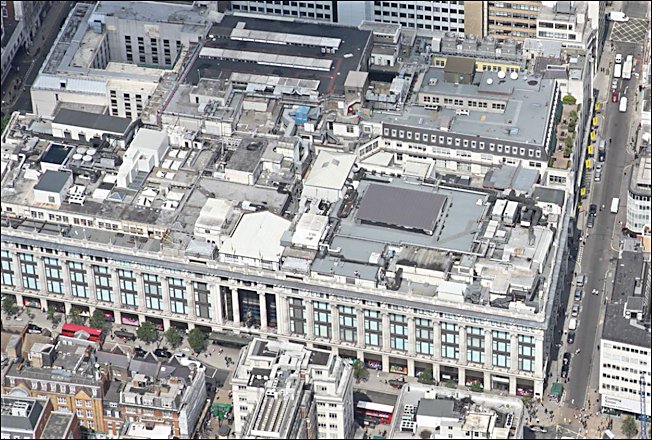 Selfridges Department Store, 400 Oxford Street, London W1A 1AB - Photo by Bing
In this aerial photograph taken of Selfridges London Store, Oxford Street is in the bottom running left to right. You will notice that the store is not one giant building but a number of buildings that connect to each other. In the top right hand corner you will see what looks like a roof garden. Selfridges was famous for its roof top garden where customers during the 1920's and 1930s could relax on the terrace with a cocktail, or take afternoon tea. There was also a small golfing pitch and putt green for customers amusement. It offered amazing views over the London Roof tops. Unfortunately it was bombed during World War Two and suffered major damage. The location of the Roof Garden was in the bottom left corner of the picture, which is now empty, and not the top right. It has only been used since the war for special events like fashion shows, book signings, product launches and film festivals. It is not a regular store attraction.